There's a huge line outside San Francisco's Warfield Theater, the likes of which hasn't been seen for some time. A historic show is about to take place on this Friday night as pioneering jam fusion guitarist John McLaughlin brings his "Meeting of the Spirits" tour to town with co-headliner Jimmy Herring. The five-week tour is concluding this weekend here and the following night in Los Angeles and there's a buzz all around since this is a historic show that won't be seen again. The show is completely sold out, and ticket seekers are hard-pressed to find any available.
Due to the creeping onset of an arthritis condition that threatens to diminish his abilities, McLaughlin has announced that this will be a farewell tour in a "quit while you're ahead" situation. Not necessarily a retirement per se, but the last time the 75-year-old prog-rock fusion maestro will hit the road for a full tour. It's something of a guitar hero dream tour as Jimmy Herring, and the Invisible Whip will open the show, followed by a set from John McLaughlin & the 4th Dimension. Then both bands will take the stage together for a third set featuring the music of the Mahavishnu Orchestra, the trailblazing jazz-rock fusion group that McLaughlin formed following his seminal work with Miles Davis and Tony Williams.
Early arrivals can score a free set of D'Adarrio guitar strings and a copy of the November issue of Guitar Player magazine featuring a cover story with McLaughlin and Herring, just for signing up for an email list in the lobby. A D'Addario ad in the magazine reveals that McLaughlin was, in fact, the first guitarist endorsed by the company. As to how he chose the 55-year-old Herring to accompany him on tour, McLaughlin tells the magazine that he started bonding with Herring after hearing his transformative version of Mahavishnu's "Hope". There are few modern guitarists who can match Herring's amazing chops, so the pairing feels somewhat ordained.
The magnitude of the tour is underscored by prominent contemporaries of McLaughlin's sighted in the audience such as Carlos Santana and the Grateful Dead's Phil Lesh. Herring and his band the Invisible Whip get things going with a strong set that reflects more of the prog-rock influence than Herring displays in his regular gig with Widespread Panic. The Mahavishnu influence is a huge part of Herring's development, and it shows here in the high level of musicianship on a set of instrumentals songs that reflect McLaughlin's transcendent style. "I was a kid wanting to play rock and roll, but I couldn't find any singers,' Herring tells Guitar Player in the November feature, expressing an eternal dilemma for so many aspiring rock guitarists. But then one day his older brother suggested he try instrumental music and played him Mahavishnu Orchestra's 1971 debut, The Inner Mounting Flame. "I was stunned. I had no idea a musician could have that kind of discipline, and I went down a John McLaughlin rabbit hole for years."
Herring pays tribute to his mentor by opening the set with Miles Davis' composition in his honor, "John McLaughlin". Local keyboardist Jason Crosby makes an impression as a member of the Invisible Whip as well, moving between keys and electric violin for some dazzling interplay with Herring. The hour-long set keeps the audience mesmerized, setting the tone for the evening. John McLaughlin & the 4th Dimension soon follow with McLaughlin thanking the audience for their many years of support and referencing a previous appearance at the Warfield back in 1981. The band delivers a set that often seems to transcend time and space, with McLaughlin demonstrating his mastery of the instrument in a way that conveys more than mere musical ability. "To play John's music… it's not all about technique. Those guys are way past technique. They've transcended technique," Herring explains in the Guitar Player feature. "John is way beyond the math and the rhythm". There's a spiritual and musical synergy in play as McLaughlin leads the band through just six songs that comprise a set of more than 90 minutes, but which never drags because the energy on stage is akin to a force of nature.
The best is still to come though as Herring and the Invisible Whip then return to join McLaughlin and company. There's now two full bands on stage playing Scott Pilgrim "amp vs. amp" style, and the resulting performance truly is an "epic of epic epicness". The ensemble opens appropriately with the tour's titular song "Meeting of the Spirits", the influential opening track from Inner Mounting Flame. It's a dazzling performance that sets the tone for a masterful performance, with McLaughlin and Herring leading a merging of musical forces on Mahavishnu's unique sound that blends rock, funk, jazz, Indian classical music, and odd time signatures that together create an otherworldly effect on the senses. The funkier sound on "The Dance of Maya" is a different kind of gem, with the guitarists trading hot licks as the groove builds on a jazzy jam.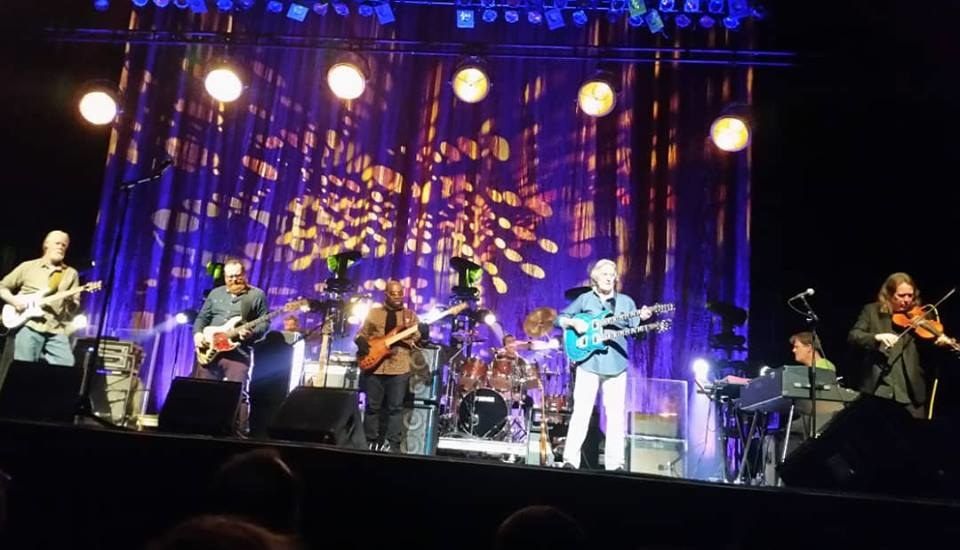 Photo by Greg M. Schwartz
McLaughlin plays a double neck guitar for much of the set, utilizing the 12-string neck to add sonic textures not possible with his regular PRS guitar. Watching McLaughlin and Herring go back and forth with dazzling guitar runs that transcend the common notion of guitar soloing is something special to behold. One song finds Herring delivering jaw-dropping runs that Phil Lesh might refer to as "anti-gravity guitar", ripping off scintillating riffage with such a seamless style that the sound seems as if it could indeed power a free energy device. McLaughlin meanwhile plays with a fluidity and presence that makes him seem like a spiritual avatar descended from the heavens to assist Earth's musical evolution.
"You have to forget yourself and let the music through, because the music has sewed its roots into your very being," McLaughlin says in the Guitar Player story. For longtime fans of Mahavishnu Orchestra, the spiritual power of those early albums is something that has indeed seeped into the soul. Hearing that music performed here is akin to feeling the soul ignite for a vibrational attunement that couldn't be attained any other way, almost like a religious seeker who must climb a mountain to visit the guru or sacred site at the top. The Meeting of the Spirits tour has delivered one of music's most spiritual experiences of 2017.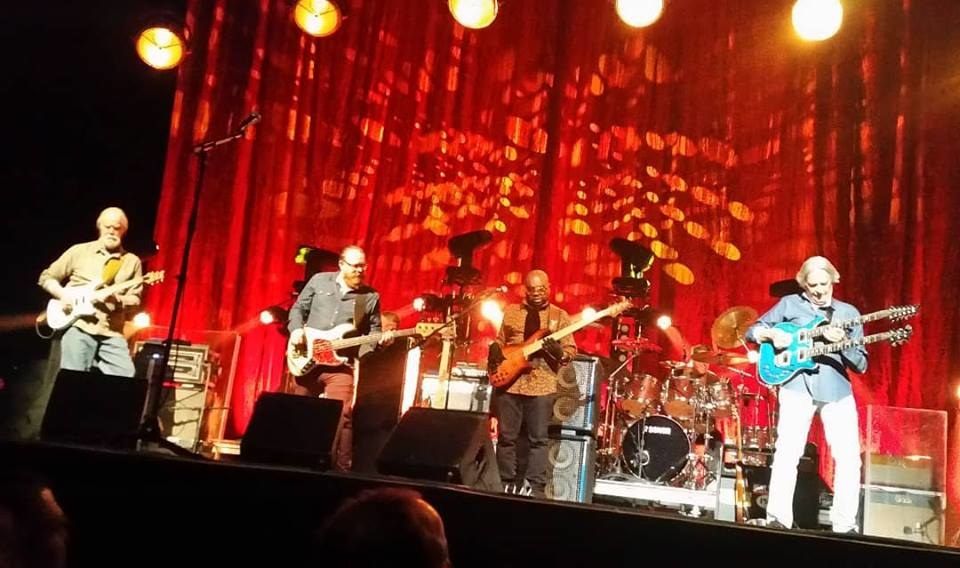 Photo by Greg M. Schwartz