Music
Melvin Seals and JGB Re-ignite the Flame at San Francisco's Warfield Theater
21 May 2018
Photo courtesy of artist
Jerry Garcia's longtime keyboardist Melvin Seals and special guests throw down a huge three-set show to honor the historic theater's 96th anniversary.
There's a historic vibe in the air on this Saturday evening at the Warfield Theater because the venue is celebrating the 96-year anniversary of opening for business in 1922. Originally purposed as a vaudeville theater and movie palace, the renowned 2,300-capacity theater only became a concert venue in 1979 when Bob Dylan was booked for a two-week residency. The theater's legend grew further when the Grateful Dead followed with a residency of their own in 1980 that was partially immortalized on the band's live albums Reckoning and Dead Set.
The Warfield's viability as a music venue had some ups and downs, but the Dead's Jerry Garcia became a patron saint for the theater by playing regular shows in the 1980s and 1990s with his Jerry Garcia Band to keep business flowing. Hence, Melvin Seals and the JGB are a most fitting band to headline the venue for this anniversary occasion. Seals filled the keyboard seat in the Jerry Garcia Band from 1980 until Garcia's untimely departure from the Earth in 1995 and has kept that musical flame burning by continuing to tour behind the JGB repertoire here in the 21st century.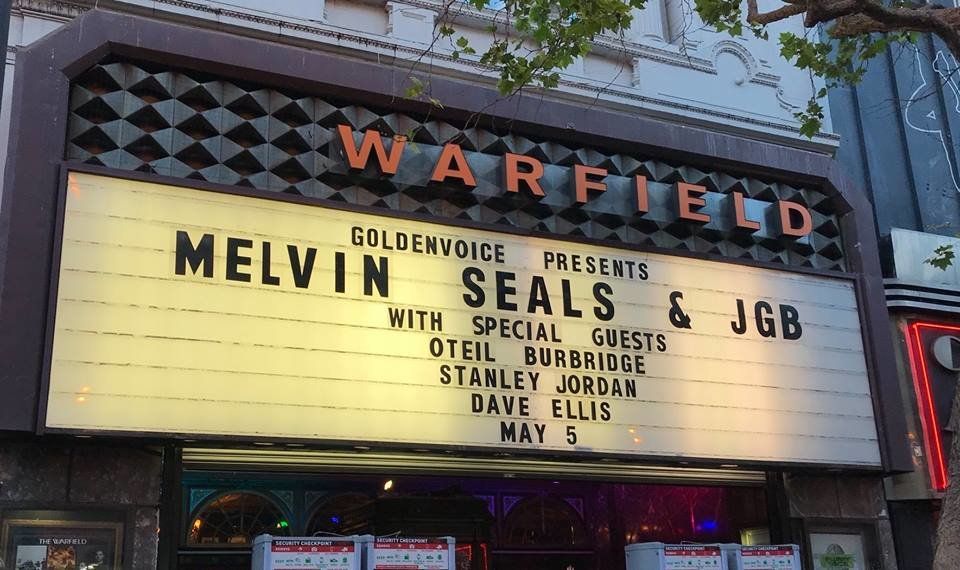 Tonight's show is billed to feature some extra special guests with bassist Oteil Burbridge from Dead & Company and guitarist Stanley Jordan, who has become a coveted occasional contributor to shows from Phil Lesh & Friends across the Golden Gate Bridge at Terrapin Crossroads. Saxman Dave Ellis, drummer Rodney Holmes, and original JGB backing singers Jackie LaBranch and Gloria Jones are also slated to appear for what promises to be a festive evening with... three sets? Most attendees are aware that the band is scheduled to recreate a 1988 Garcia show that took place here at the Warfield, though some who missed the fine print didn't catch that there would be an bonus set as well.
There was a reaason to wonder about the Warfield's fate when the lease changed hands in 2008, but the theater has indeed continued to thrive. Lesh treated the Warfield as if it were actually closing permanently when the lease passed from the Bill Graham Presents family tree to corporate giant AEG Live in 2008, playing a special five-night run that started with the Dead's first seven albums played in their entirety and concluding with a wild card three-set bonanza and New Year's Eve style balloon drop at the beginning of the final set in May of 2008 before the theater closed temporarily for some refurbishing. Lesh has never headlined the Warfield again, but the venue still retains sacred sentiment in the hearts of many Deadheads due to all the magical nights it has hosted. AEG and Goldenvoice have done a decent job of honoring that history from time to time over the past decade, such as when Melvin Seals and the Chris Robinson Brotherhood co-headlined the theater on the eve of the Dead's 50th anniversary "Fare Thee Well" shows at Levi's Stadium in Santa Clara in 2015.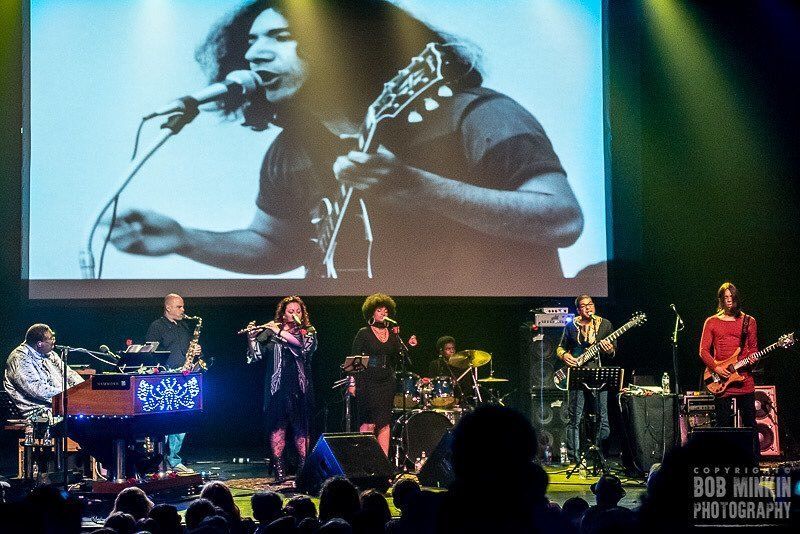 Photo: Bob Minkin
Seals and friends waste no time moving into high gear when the curtain drops here and the opening lineup featuring Burbridge, Jordan, Holmes and Ellis launches right into the Dead's classic "Help on the Way>Slipknot>Franklin's Tower" trio for some monster jamming to light the fuse for a long crazy night with current JGB backing singers Sunshine Becker and Lady Chi adding harmonies. Dave Ellis provides an x-factor, adding a jazzy jammy flair with his sax that conjures visions of Branford Marsalis sitting in with the Grateful Dead. Ellis' presence also recalls his own tenure as a member of the Other Ones in 1998, when the surviving members of the GD first reunited for a national tour that launched right here at the Warfield with an electrifying benefit show for Rainforest Action Network where fans learned that GD music was an entity of its own that could and would be destined to outlive the original members of the band.
The Garcia/Hunter ballad "To Lay Me Down" cools things down for a moment before the band ignites a dance party with "Eyes of the World" featuring Becker on lead vocals. But all is not quite in sonic peace and harmony as it should be due to an astounding level of chatter taking place on the floor's second and third levels. An all-star band is jamming out on one of the Grateful Dead's classic jam vehicles, yet an absurd number of people are chattering away incessantly as if they're just out at their local bar. The "chomper" problem is a growing national epidemic if discussion in online music groups is any indication, so much so that the Dead's Bob Weir even has t-shirts depicting himself with the letters "STFU" for sale at his Sweetwater Music Hall in Marin County. The only option here is to move up closer to the stage and further away from the back bar, a strategic solution that saves the gorgeous set-closing performance of the classic Garcia ballad "Stella Blue" featuring a poignant vocal from Burbridge.
Dave Ellis, Sunshine Becker, Lady Chi / Photo by Kate Haley
The lineup shifts for the next set with Jackie LaBranch and Gloria Jones stepping in to recreate their parts in what will be a re-enactment of the 5 May 1988 JGB show at the Warfield, while current lead guitarist Zach Nugent joins the cast with Jordan staying on board as a second guitarist. A sparkling rendition of "Cats Under the Stars" kicks off the set with a burst of energy, as Nugent shows why he's earned the job with Garcia-style vocals and guitar work. A funky jam on "Get Out My Life Woman" sees a groovy interplay between Seals and Nugent, followed by a big solo from Ellis that gets the audience hooting and hollering in a good way. A deep take on Bob Dylan's "I Shall Be Released" follows, before gremlins seem to sabotage Nugent's amp at the end. This leads the band to briefly depart the stage while noting that it's not really setbreak. They return a few minutes later to deliver scintillating takes on the always inspiring "Run for the Roses" and perennial fan favorite "Deal" to close the set properly.
Guitarist Zach Nugent / Photo by Bob Minkin
The final set is performed by the complete current edition of Melvin's JGB with bassist J.P. McLean and drummer Pete Lavezzoli taking their place as the rhythm section and Becker and Lady Chi returning as backing vocalists with Ellis as the sole remaining guest. Highlights are numerous, including an ever-uplifting delivery of "Sisters and Brothers" followed by a big jam on "Don't Let Go" that finds Seals and Nugent tripping the light fantastic as they riff off each other for what becomes a jazzy space jam that teases some of Van Morrison's "Moondance" to provide one of the evening's peak improvisational moments. The band keeps the stellar jam going with Ellis taking a solo too, much to delight of all. The classic "Midnight Moonlight" delivers shimmering sonic bliss before a rocking "Evangeline" ends the huge set.

The entire cast of characters returns for a big "Shining Star" encore that seems to function as a multi-dimensional tribute to the dearly departed Garcia. The Grateful Dead's de facto leader has now been gone for nearly a quarter-century, but his incalculable influence on the music world continues with the explosion of the modern jam rock scene and Dead cover bands that have popped up in nearly every major American city.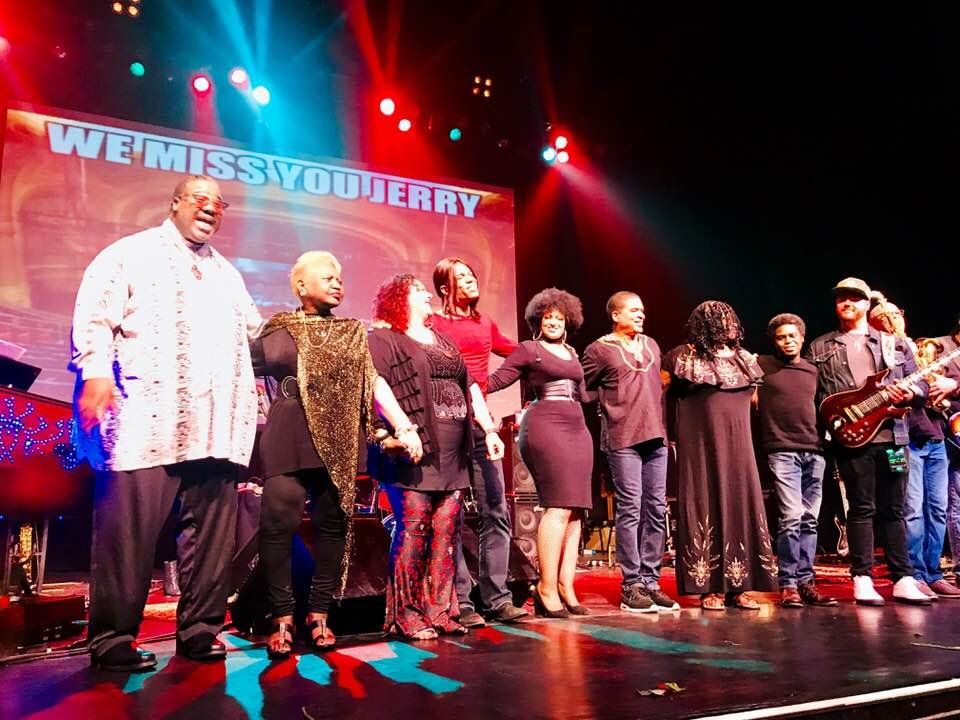 Photo by Janice Wulf
There's also a timeless spiritual quality to Garcia's music that keeps fans coming back for more in whatever format they can get it, because the songs are like living entities that continue to remain open for interpretative evolution depending on who's performing them and in what context. Garcia's songs and the jams they inspire also continue to serve as monuments to the psychedelic rock counterculture of the '60s, which vibrantly suggested that America could aspire to a more peaceful, harmonious and just society than the greed-driven rat race which the powers that be present as the only paradigm conceivable. This seems to be the real handle on Garcia's enduring legacy, because the demand for the spiritual liberation contained in his music remains nearly as strong as ever some 23 years after his final performance.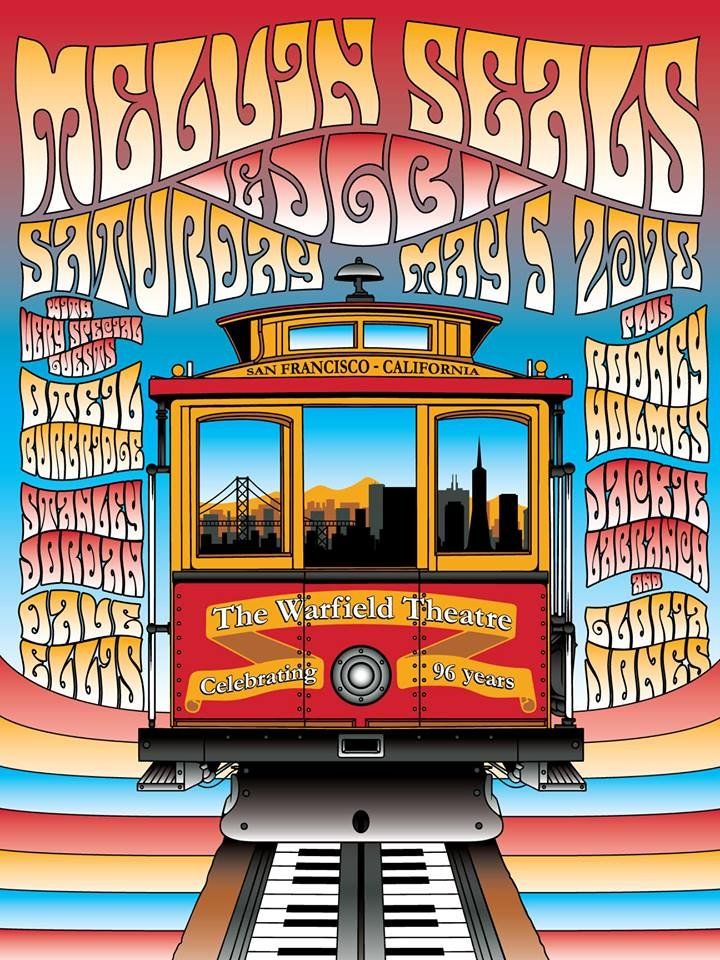 Official LE show print + show recording at archive.org
Related Articles Around the Web