Music
Mike Gordon Helps Fans Find Destiny Unbound in Santa Cruz
02 Mar 2018
Photo: Rene Huemer (Big Hassle)
Phish bassist Mike Gordon delivers crowd-pleasing jam-filled show as his touring quintet shows off their growing chemistry.
It's a Monday night in Santa Cruz, and the charming oceanside town known for its great surf and legendary vampire population (Lost Boys was shot here) is hosting one of the season's premiere under the radar rock 'n' roll events. Phish bassist Mike Gordon is leading his solo band on a West Coast run that will draw larger audiences in bigger cities, but catching an improv-oriented unit like this in an area renowned for its liberal leanings and alternative lifestyles is a formula that would seem to foreshadow one of the tour's best shows.
Those who choose to pregame at Hula's Island Grill & tiki bar around the corner from the Catalyst can get some of the finest rum drinks around, along with stupendous luau pork. They can also find most of the Mike Gordon Band eating dinner there as well, although keyboardist Robert Walter appears to be the only one drinking one of Hula's classic tropical cocktails. It's a great spot,, and there's nothing quite like splitting a "Scorpion Bowl" with your date to get primed for a show that promises to dazzle the senses.
The 800-capacity Catalyst is actually a larger venue than the Independent that Gordon will play next in San Francisco, but the room is only about two-thirds full tonight which leaves plenty of elbow room for fans to get their groove on. There's also just something about the laid-back Santa Cruz vibe that makes for a more relaxed scene here, with a less hectic atmosphere than many of the big city shows. Gordon seems to sense this because he and the band waste no time diving into deep jams early and often, much to the delight of the audience which spurs such exploration further with their receptive affections.
The Catalyst is known for its great sound and Gordon's bass rings out bright and punchy right from the start on "Victim" and "Equilibrium" from his latest album, 2017's OGOGO. He's developed one of the best bass tones in rock, and every note vibrates with crystal clarity here, drawing fans into the groove like moths to a flame. Guitarist Scott Murawski takes the lead vocal on "Just a Rose", a rocking tune from his band Max Creek that northeastern Gen-X jam rock fans like Mike Gordon grew up on. The song has a compelling groove that opens up for a hot jam here as Gordon locks in with drummer John Kimock and percussionist/programmer Craig Myers, while Murawski rips on lead guitar as the audience cuts loose. It's readily apparent that the band is on tonight.
Murawski's "Don't Chin the Dog" is another winner with ace keyboardist Walter starring on the organ as he brings in the west coast boogaloo sound he's helped make famous as a member of the Greyboy Allstars. The instrumental tune has the audience getting down and hooting like the show is already deep in the second set and the lit up guitars that Gordon and Murawski play only add to the psychedelia. OGOGO's "Pendulum" provides another groovy jam vehicle with some stellar polyrhythmic percussion. The jam segues into "Babylon Baby" which quickly leads into an energetic jam of its own as Gordon and Murawski power a dynamic groove. The duo has been playing and touring together for more than a decade now, while the other three members of the band are more recent additions but it's clear that this particular quintet is developing some genuine chemistry.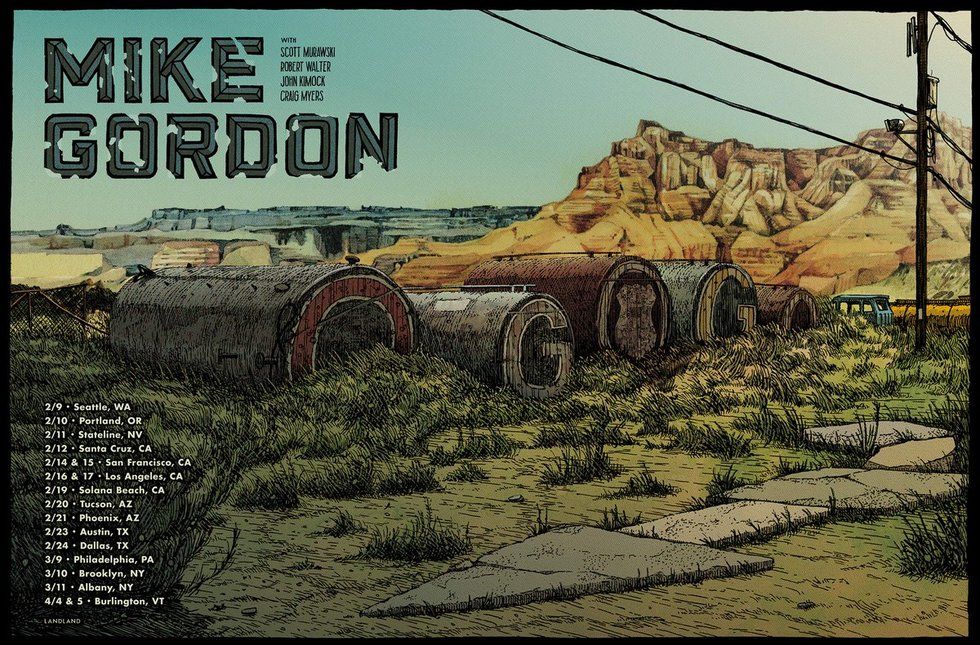 LE tour print by Landland pbs.twimg.com
The new "Whirlwind" opens the second set with a sound somewhat similar to Phish's "Meat" until the song moves into a futuristic jam that picks up where the first set left off. Most of the evening's songs approach the 10-minute mark as the band uses the tunes as vehicles to go explore the spaces between spaces. "Different World" finds Murawski and Walter weaving uplifting melodies around the tight groove, before segueing into the reggae-tinged intro of "Peel". The song has a downright weird vibe on the surface, but the quintet shows what sonic alchemists they are when they leave the basic form behind for what Phish fans might categorize as a "type II" jam. The improv moves into a new sonic landscape as Murawski ditches the chords for some shimmering arpeggios, Gordon powers an intense low end, and the psychedelic light show kicks into high gear as the "x-factor" is engaged.
This leads into a pinnacle moment as the band busts out the beloved Phish rarity "Destiny Unbound", a tune written by Gordon that he'd announced was joining the repertoire when he posted a video of the quintet rehearsing it a few weeks earlier. The infectious melodic rocker is pure bliss as the audience revels in the groovy jam, which gets a sonic boost from Gordon's Lovetone Meatball envelope filter. There's also some dynamite polyrhythmic percussion to elevate the groove higher as the Catalyst catches a glorious sonic wave . The triumphant vibe carries over into a ska-tinged arrangement of Rancid's "Ruby Soho", with Gordon and Murawski even throwing in a vocal reprise of "Destiny Unbound" before moving into "type II" jam space again as the song magically morphs into what sounds a lot like a jam on the Grateful Dead's version of the traditional "I Know You Rider". This jam propels the audience into another round of ecstatic dancing before the quintet drops on a dime back into the "Ruby Soho" chorus like a musical game of the popular wizard sport Quidditch.
The anthemic "Let's Go" caps the surging set in climactic fashion, an engaging tune recorded for Phish's 2016 Big Boat album but which was left off by renowned producer Bob Ezrin. It was Ezrin who was also blamed for leaving "Mercury" off of Big Boat, a puzzling move considering it became an instant fan favorite upon its 2015 live debut. The album contains several other instant classics but has received mixed reviews from the fan base, so it's a shame that "Let's Go", and "Mercury" weren't included since the dynamic tunes could have boosted the album's perception versus songs like "Home", "Waking Up Dead" and "Things People Do" that have quickly been left behind from the live repertoire.
Gordon graciously invites everyone to visit at the merch table after the show before launching into a crowd-pleasing encore of "Mary Jane's Last Dance", featuring an emotional lead vocal from Murawski on the Tom Petty classic and some deep organ work by Walter. The song's classic sentiment of "I don't know but I've been told, if you never slow down you never grow old" seems to fit Gordon and his fans perfectly. The decades of chasing musical magic and destinies unbound on the road really do seem to be keeping both Gordon and many in the large Gen-X sector of the Phish fanbase looking younger than their years. In this way, Gordon and his cohorts provide a most noble service to fans who would otherwise have a lot less adventure in their lives and probably fewer companions in the show of life as well.
Related Articles Around the Web