There's a rock 'n' roll buzz in the air around San Francisco's Civic Center area on this Thursday evening with what will surely rank as one of the year's top double bills rolling into town to play the arena named after legendary local rock promoter Bill Graham. Few bands make a better pairing than Eagles of Death Metal opening for Queens of the Stone Age since QOTSA singer/guitarist Josh Homme is a co-founder and still part-time member of EODM.
More of a bluesy garage rock band than their satirical moniker suggests, Eagles of Death Metal were also more of an underground phenomenon until a dark twist of fate propelled the band to international fame when their November 2015 show in Paris was disrupted by a shocking terrorist attack that killed some 90 patrons including the band's merchandise manager. It's hard to imagine a more horrific turn of events for a touring rock band. This particular affront to humanity seemed to be part of an even more nefarious plot, with the orchestrated attacks in Paris that night appearing to be part of a conspiracy to generate a state of emergency that would enable the powers that be in France to cancel the massive environmental protests that were being planned for the United Nations' Climate Summit in Paris the following month.
"I don't know that it would have changed the agreement, but I think it would have changed people's understanding of what happened. I think there would have been a million people in the streets of Paris without that ban. That's what they were projecting," environmental activist/reporter Naomi Klein said in a January 2016 talk in Canandaigua, New York billed as "Capitalism vs. The Climate: Reflections on the 2015 UN Climate Conference."
But while climate activists did not have an occasion to go back and make things right, Eagles of Death Metal did return to Paris in the spring of 2016 to complete the disrupted show in honor of the victims and in defiance of the terrorists. With Homme joining the band on drums, Eagles of Death Metal threw down an electrifying performance that ripples with rock's "never say die" power as they delivered what has to rank as one of this decade's most charged and spiritually liberating performances (immortalized on 2017's live release, I Love You All the Time: Live at the Olympia Paris).
Eagles of Death Metal frontman Jesse Hughes appears on local radio station KFOG earlier in the day here to spin some tracks and tell some tales, such as relating how songs like "Speaking in Tongues" and "Kiss the Devil" actually came to him in dreams. Hughes spoke of a dark period where he was going through a difficult divorce and started to wonder how one would go about selling one's soul to the devil for rock fame and fortune when the songs came to him. He also spoke of deeper rock truths such as "cool is an attitude" and "rock 'n' roll can keep you young forever", while spinning influential classic rock faves including the Stones' "Jumping Jack Flash", the Doors' "Peace Frog" and John Fogerty's "Rock and Roll Girls".
Eagles of Death Metal gets the crowd rocking here like opening acts rarely do, throwing down a raucous and well-received set that suggests the band should return to the Bay Area as headliners soon. "Whorehoppin' (Shit, Goddamn)" bites from the "Jumping Jack Flash" chord progression, but does so in a creative way to spin off a fresh tune. A surprise cover of David Bowie's "Moonage Daydream" is a big crowd-pleaser, with the band delivering a smoking rendition of the cosmic classic rock gem featuring a guest guitarist who's announced as Green Day's Billie Joe Armstrong. Is it really him? It sure looks like Billie Joe from the balcony. It's almost beside the point as the band jams out on the tune much to the delight of all. Homme joins the band on drums at the end of the set for "Speaking in Tongues", giving the group an extra boost in what is the final set of this run together.
"It gets no better than playing rock 'n' roll shows with our best pals in the world, for you beautiful humans. Our thanks to Queens of the Stone Age for having us, and our extra mega thanks to all of you — our friends — who came out to boogie and woogie with us these past two weeks," says Eagles of Death Metal on social media after the show, a compliment to a post from a couple days earlier with Hughes and Homme chilling near the Golden Gate Bridge upon arriving in town.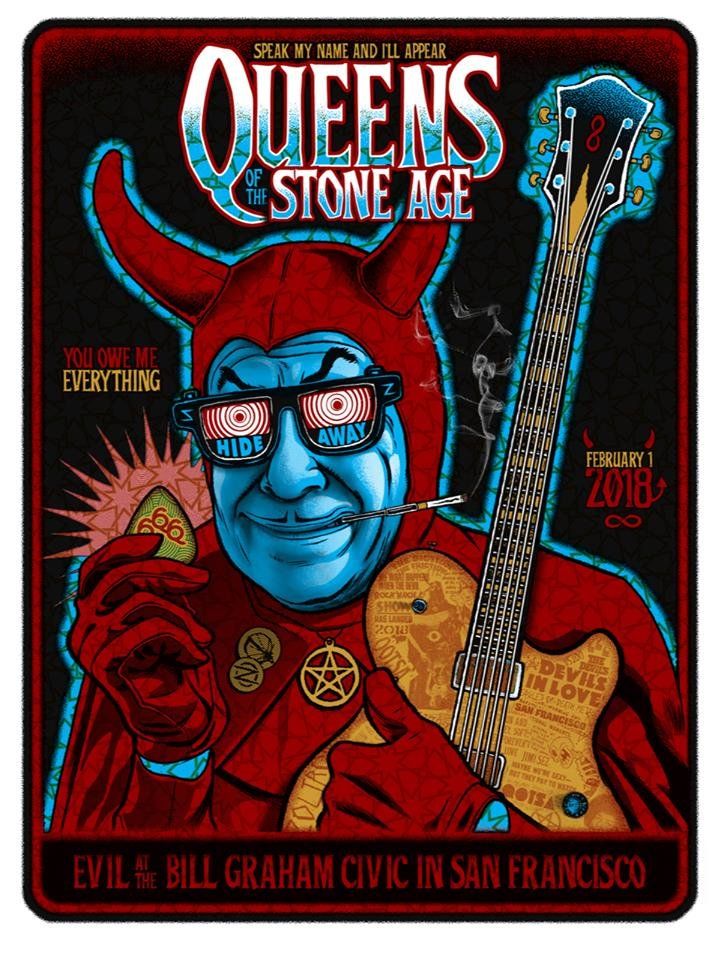 LE Print

scontent.fsnc1-1.fna.fbcdn.net

Queens of the Stone Age have set the tone for the night by issuing all tickets for this general admission performance with a seat number of 666. But anyone who would be turned off by that probably wouldn't be here in the first place. Homme has become known as one of the more mercurial personalities in rock, but he's also helped keep '90s alt-rock alive here in the 21st century and that's a noble service for those who dig the grunge, metal, and guitar-driven doom rock the band specializes in. Some jaded older fans may try to suggest the band's gone a bit soft in recent years, but 2017's hard-rocking Villains album says otherwise as does the blistering volume level here in the two-plus hour set that takes no prisoners.
"Monsters in the Parasol" is an early highlight as the band's patented riff-rock gets the room rocking, although it's hard to tell how into it the people on the floor are because they're so packed in it looks like they can hardly move (as is typically the case with the mayhem floor scene at BGCA). "Feet Don't Fail Me Now" is another barnburner, with the opening track from Villains showing what a dynamic live tune it is. It's also a great modern rock anthem for anyone who might have been tempted to take a night off here after rocking out at other shows this week, but who couldn't abide doing so with Queens of the Stone Age in town. This segues right into "The Way You Used to Do" as it does on the album, a perfect combo with the song epitomizing the band's relatively unique skill for blending hard rock with a groovier rhythm and blues flavor.
The band proceeds to keep the petal to the metal with a high-energy set interrupted only by occasional interludes where Homme muses with tidbits of hard-earned rock wisdom. "Safety is bullshit. There's no such thing as safety … If you risk nothing, you get nothing," Homme says at one point. In an era where the Bulletin of the Atomic Scientists have just recently advanced their Doomsday Clock to 11:58 pm (measuring how close humanity is to annihilating itself via nuclear war and/or climate change), the concept of genuine safety does indeed seem more elusive than ever — thanks Donald Trump!
The band delivers "You Can't Quit Me Baby" with an almost hypnotic quality thanks to the deep groove from bassist Michael Shuman and drummer Jon Theodore, while Homme and guitarists Troy Van Leeuwen and Dean Fertita build their riffs in skillful tandem. The 2002 radio smash "No One Knows" gets a rise from the audience, perhaps boosted by a longing for a simpler time when even the evils of the Bush-Cheney regime didn't have the Doomsday Clock at two minutes to midnight. Such is the cognitive dissonance of the Trump era, making "The Evil Has Landed" from the new album feel like a timely track indeed.
"I Sat by the Ocean" is a gem from 2013's …Like Clockwork..Like Clockwork, a mid-tempo number that almost sounds more like a Pearl Jam song but one that would be a great deep cut. The frenetic "Misfit Love" feels like it could be on the soundtrack of a Philip K. Dick movie and the dystopian cyberpunk flavor stands out here as heads bang to the tightly syncopated riffs. Does Homme have a "Head Like a Haunted House"? Growing up in a remote part of the Southern California desert where "there's nothing to do but get high and make music" could perhaps create a haunted psyche, but he sure is getting a lot of great riffs out of that hall of mirrors. Maybe he and his cohorts are just "Villains of Circumstance", a bluesier number that provides a bit of a breather before the final sonic assault as the show moves into the stretch run.
The classic combination of catchy riffage and tight cowbell on "Little Sister" gets the crowd surging, with the ladies in the audience shaking their groove thing with an impressively higher female ratio than at many hard rock shows. The groove factor continues to swing on the set-closing "Go With the Flow" as the band brings the set to a rip-rocking close. The encore takes the audience back in time 20 years to the band's debut album with "Regular John", featuring a deep heavy groove that inspires two small mosh pits to break out, impressively so considering how little room there is to move around on the floor. The furious "Song for the Dead" keeps the mosh action going as the band puts all their tricks together with catchy riffs, syncopated beats, eerie harmonies and another monster groove to end the night with a bang.
Fans and critics can debate Homme's occasional lapses in good judgement, but he's keeping Queens of the Stone Age rocking at a high level at a time when the band's music serves as a fitting soundtrack for the perilous world in which we live. In era when alt-rock heroes have been leaving the planet at a troubling rate, the rock world is a better one with Queens of the Stone Age still rattling the foundations of buildings like the Bill Graham Civic Auditorium.