It's the first weekend of March, and there's a spring buzz in the air at San Rafael's Terrapin Crossroads the likes of which has rarely been seen in the venue's six-year history. Proprietor and Grateful Dead co-founder Phil Lesh generates rock 'n' roll magic on a regular basis as he continues to explore Grateful Dead music well into his 70s, making Terrapin a mecca of sorts for Deadheads. But the venue also hosts a variety of other touring acts, including emerging jam bands out to carry the torch for the improvisational psychedelic rock movement that the Dead pioneered. Enter Arizona jam rock quartet Spafford, who have been building up a national reputation for their jamming skills.
Spafford's debut appearance at Terrapin Crossroads on this Saturday night generated such demand that the show sold out, with a second show added for Sunday night. Increasing the buzz is the fact that some "Spaffnerds" — as their dedicated fans have already come to be known — have traveled far and wide to be here from distant points including Oregon, Arizona, San Diego, and… Miami?! That reveals how a gig in the Grate Room at Terrapin Crossroads has come to be viewed as a career milestone of sorts in the jam rock world, with debut performances from emerging bands being viewed by their fans as a historic occasion.
Spafford has brought their own light show into the Grate Room, providing a rare treat with extra psychedelia in contrast to the normally stripped down light show that keeps the focus on the music. A workout on John Hiatt's "Memphis in the Meantime" gets the crowd grooving early on with a melodic, bluesy groove that recalls Phish's "Get Back on the Train", likely derived from shared influences. The jam soars into some uncharted territory though with guitarist Brian Moss shredding some molten lead guitar that generates the first wave of appreciative feedback from the audience before the band simmers down and takes the song in a spacier direction. That becomes a theme for the weekend with songs typically exceeding ten minutes and jams that explore multiple directions, honoring the band's legit credo of "We jam".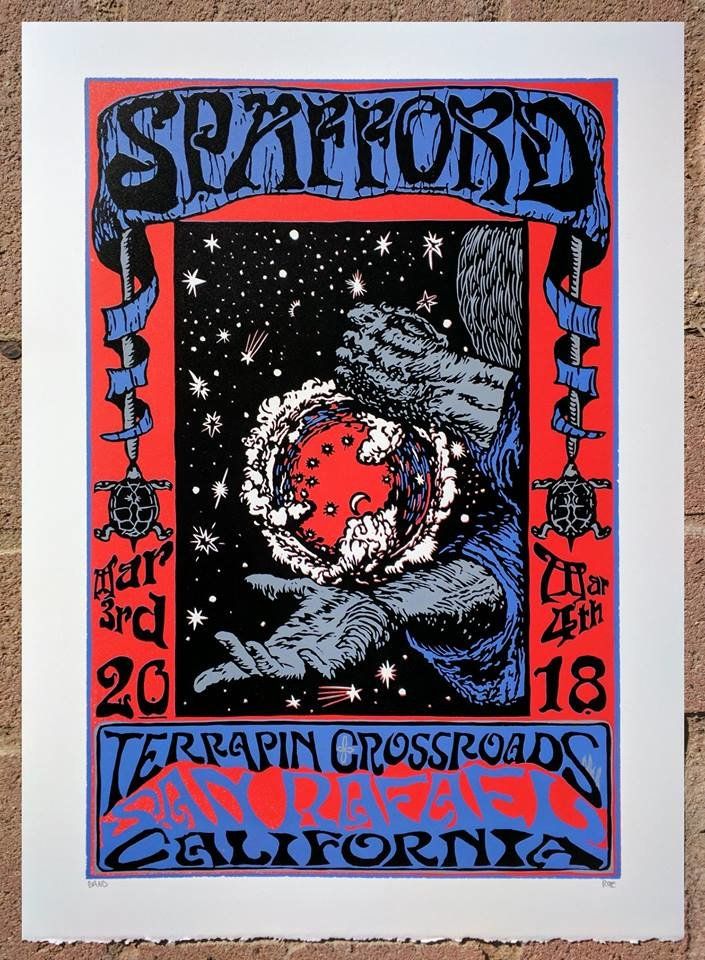 LE event print by Jon Rose

scontent-sjc3-1.xx.fbcdn.net

The quartet demonstrates a mature jamming style on "Backdoor Funk", with bassist Jordan Fairless, drummer Cameron LaForest, keyboardist Red Johnson and Moss taking their time to patiently build up the jam before Moss takes the lead to drive the audience to another peak. Johnson launches "In the Eyes of Thieves" with some trippy synth work that sets the stage for some syncopated funk and another groovy crowd-pleasing space jam to close the set. Spafford's dynamic chemistry is on display here, with all four musicians interweaving their rhythms to create a layered collective groove that stands well on its own for several minutes before Moss engages his lead guitar warp drive. The set has contained just five songs, but each one has received an extended jam treatment and that's just the way this crowd likes it as evidenced by repeated positive feedback.
"Lonely" opens the second set with a high-energy jam that recalls Phish's classic "Weekapaug Groove" for some and that's more than alright because Spafford's ability to deliver such musicianship is a large part of what has induced some longtime Phish fanatics to become Spaffnerds and travel many a mile to be here tonight. "America" finds the band tripping the light fantastic, with Johnson laying down some spacey synths that soon propel another hot guitar-driven jam. The funk deepens on "My Road (My Road)", a tight tune revealing a lean mean groove machine. A cosmic funk vibe is invoked on the encore of "The Reprise", which seems to reprise a groove with the flavor of STS9's beloved jam vehicle "Gobnugget". But Spafford spins the groove in another direction with Moss again providing inventive virtuoso lead guitar to propel the jam in a fresh direction.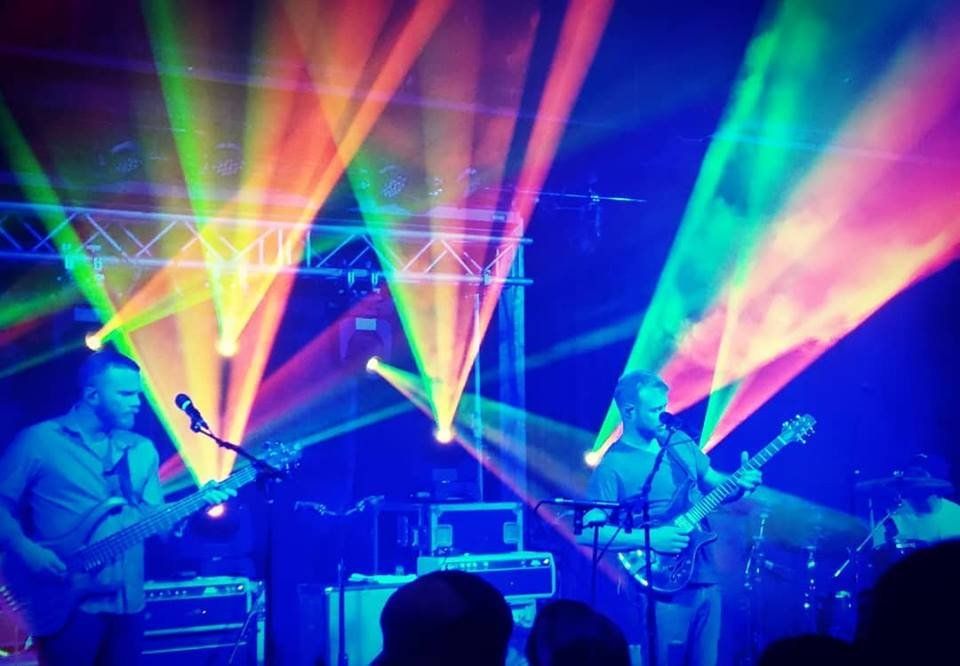 Photo by Greg M. Schwartz
When the lights come up with the Traveling Wilburys' "End of the Line" playing on the PA, no one wants to leave. A certain percentage of concertgoers will typically hang out and chat with friends and acquaintances for a few minutes after any show, but here no one is leaving, and large groups of friends are posing for group photos to commemorate what is viewed as an auspicious occasion. It's been a very solid show, yet there's still some question as to whether Spafford might still have a higher gear.
This question is put to rest 24 hours later when Spafford takes the Grate Room stage again for a Sunday Funday show. A closer inspection of the merch stand reveals a t-shirt with a flying saucer in space, which seems appropriate since the band appears to specialize in the kind of space rock jams that keep improv music fans coming back for more trips through these sonic spaceways. An "Eternity" opener features a progression that sounds somewhat like Warren Zevon's "Werewolves in London", which gets some fans howling. "The Remedy" features another feel-good groove, which gives way to the jazzier "Legend" with Moss delivering some graceful playing before the jam builds to full-shred mode.
The set is highlighted by "Electric Taco Stand", a funky tune the band uses as a platform for a blissful melodic jam that may recall the String Cheese Incident or moe. for longtime jam rock fans. But while there are times when Spafford may recall some of the now classic jambands that propelled the movement in the late '90s following Jerry Garcia's untimely departure from the planet, the band has developed a propensity for using these influences as stepping stones to reach new sonic dimensions. Such is the case here, with Johnson's artful piano work propelling the jam higher, leading to a spacier section that segues into "Alternate Ending" where Moss rips melty lead guitar before the jam drops back into the funky groove of "Electric Taco Stand".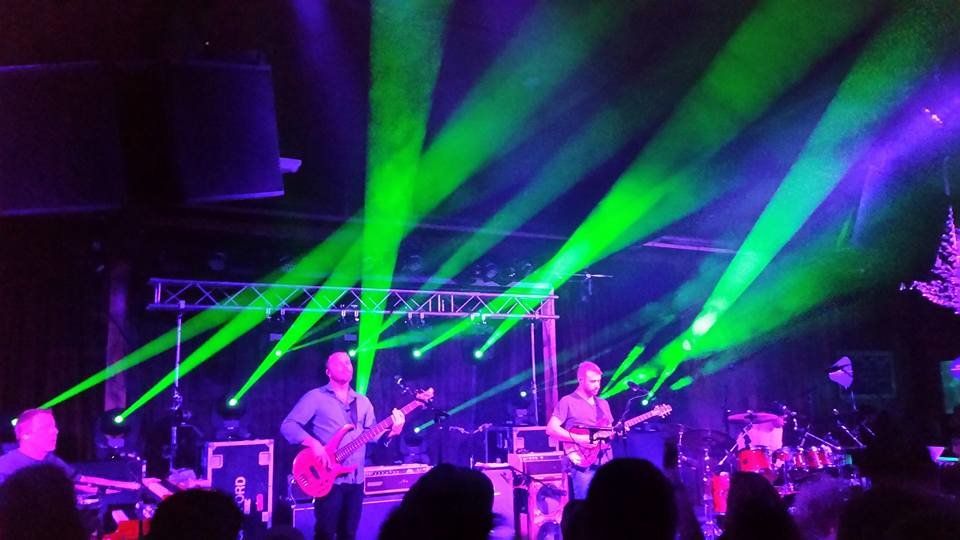 Photo by Greg M. Schwartz
The quartet is really dialed in now, as further displayed on the infectious melodic groove of "Love Sick Melody" with the guitars and piano intertwining to create a sonic tapestry that feels like more than the sum of the parts. Spafford puts it all together for a second set that fires on all cylinders, starting with the crowd-pleasing "All In" that receives hooting, hollering, and howling from the adoring audience. The band's higher level connectivity reveals itself here on an exploratory jam that takes a number of delightful twists and turns, before giving way to another triumphant jam on "Slip and Squander" where the music seems to play the band as the Spafford spaceship soars through the interdimensional highways and byways.
The band the dials up a surprising curveball with a cover of "Mad World" by Tears for Fears. It's here that Spafford displays some more of their impressive sonic prowess by transmogrifying the '80s new wave hit into an incendiary jam vehicle that takes the song into a brave new sonic world. Is the song's placement in the repertoire a nod to its appearance in the 2001 cult classic film Donnie Darko, which took place in 1988? Or perhaps just a timely recognition of the insanity currently taking place under Donald Trump's foul domain of greed and avarice? Maybe both. Either way, it's an unexpected highlight in a set that's jam packed with peak moments.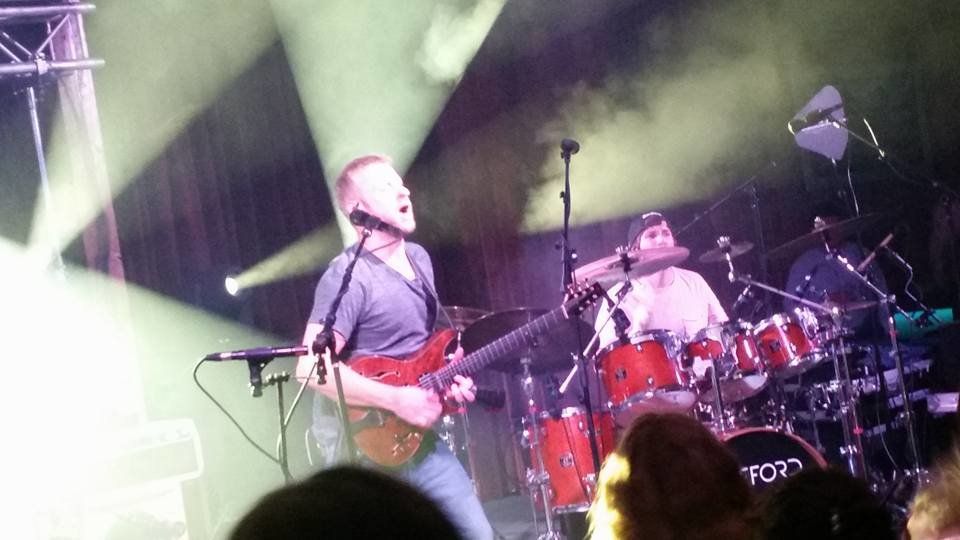 Photo by Greg M. Schwartz
The ballad "Beautiful Day" gives everyone a chance to catch their breath, perhaps a nod to the career milestone achieved this weekend here at Terrapin Crossroads. Spafford then ignites for the show's final stage on the set closing "Galisteo Way", with the rocking tune leading into a blisstopian jam that takes Terrapin back to cloud nine. The dynamic jam starts slow, with Johnson laying down some melodic piano leads over a deep groove that brings the audience into the kind of collective unity that explains why jamrock fans engage in interstate travel to see their favorite bands as often as they can. The jam then builds with Moss laying down some laser strike lead guitar to propel a furious finish. A "Double Time" encore is apparently something of a bustout not played since last fall, with the band throwing down one more smoking space jam that finds Moss melting face at an impressively high level.
The scene when the lights come up is much like the night before, with a blissed out crowd lingering to savor the moment. Moss appears out in the Grate Room to chat with fans and well-wishers, clearly jazzed about the performance yet also with the humble air of a genuine virtuoso who knows that it's the fans that make a traveling rock 'n' roll circus possible. The sky would appear to be the limit for Spafford if their Terrapin Crossroads debut is any indication.