It's a rainy Monday night in San Francisco, not the type of evening that inspires people to be eager to go out. But the Fillmore is packed because the Stone Temple Pilots have just launched a new tour with a new singer to start the "3.0" phase of their career and local grunge fans are eager to see the results. Stone Temple Pilots had already parted ways with original vocalist Scott Weiland two years before his untimely departure from the planet by drug overdose toward the end of 2015, but there was an unsettling finality there for all Stone Temple Pilots fans who hoped that he might still get it together.
Weiland was ultimately replaced with Chester Bennington from Linkin Park, although he departed the band on amicable terms to go back to Linkin Park before his stunning suicide in 2016. Fans had reason to wonder if these tragic deaths might have sunk Stone Temple Pilots for good, but why should one of the classic bands of the original alternative rock era let their final chapter be a tale of woe? Stone Temple Pilots, therefore, decided to carry on with a wide-ranging casting call that apparently drew some 15,000 submissions before the band auditioned nearly 50 contestants. 41-year-old Jeff Gutt won the job, and the band went to work putting together a new album to accompany the tour. Stone Temple Pilots has a strong back catalog, but it's probably the new and future material that will determine how far this version of the band will go.
As showtime nears, it becomes apparent that Fillmore is beyond jammed with next to nowhere to go to find a little elbow room. Either the band has a huge guest list, or the promoter is selling too many tickets, an increasingly common issue in San Francisco it seems. It might be the most jammed this reporter has ever seen the Fillmore in 25 years of attending shows at the legendary venue, since the grand re-opening night at the height of the grunge era in the spring of 1994 when the Smashing Pumpkins were given the honors (with Stone Temple Pilots rolling in later that summer.) Reflecting on that history only heightens the drama of seeing Stone Temple Pilots return to such sacred ground.
The show opens in familiar terrain with "Wicked Garden" and "Vasoline" as the band and crowd settle in. There's no doubt that Gutt sounds a lot like Weiland, but there's more to nailing this role than just hitting all the right notes. There's still the question of what kind of mojo he brings to the stage and how the group chemistry will develop. These questions start to come into focus during the more obscure "Coma" from 2001's Shangri-La Dee Da, Stone Temple Pilots' fifth album. The vibe surges a bit here since the edgy rocker is less familiar than the hits, giving Gutt and the band a chance to work on developing that mojo which the singer does in fine fashion here.
Guitarist Dean DeLeo rips some wicked hot leads over the fierce groove from brother Robert DeLeo on bass and drummer Eric Kretz, and the show feels like it's moving into a higher gear. "Big Bang Baby" is delivered in solid fashion, but it's another song from Shangri-La Dee Da that gives Gutt a chance to stretch out with "Regeneration". The mid-tempo number is again less familiar for those who might not have spun the album in a while, which makes for a strategic opportunity to put some of those deep cuts back into action with a refreshing vibe. Gutt shines on "Glide" from 1999's No. 4 as well, showing the dynamic range to nail the infectious high parts that give the song a sugary blend of grunge and power pop.
The band is starting to loosen up now with Robert DeLeo pausing to ask Gutt how it feels "to play this place", with Gutt responding appropriately that "It's a lifelong bucket list dream". That serves as a prelude to 1994's smash hit "Big Empty", which provides one of the show's peak flashback moments (although there are far too many people with their phones in the air to record it for it to feel like 1994.) The same thing happens on "Plush" — the band has their vintage sound dialed in so well, but there are so many phones in the air that it detracts a bit from the moment.
It's halfway through the show before Stone Temple Pilots drops a song from the new album with "Meadow", a dynamic rocker that seems to be at least partly about moving on as Gutt sings, "When there's nowhere to hide / Yeah we're gonna step on / As we drink from the flame / That was burning in the meadow / We've broken our lives, Innocence of our souls / We can drink from the flame / That was burning in the meadow."
One of the show's top moments occurs when Gutt takes a moment to describe his audition, saying he was nervous but asked to sing the hardest song first to confront it head-on. The DeLeo brothers note that he totally nailed it to make a big impression, as is the case here on "Piece of Pie" from Stone Temple Pilots' debut album Core. This is where the Stone Temple Pilots rock monster really rises, crushing one of the most powerful songs in the repertoire as Gutt electrifies the Fillmore with mojo to spare. Heads are banging, and fists are in the air as Stone Temple Pilots' full grunge-power is now in effect and a glorious thing to behold again it is. Dean DeLeo melts liquid face on a smoking guitar solo, leading some to wish the band would stretch this jam out further because it sounds so damn good.
The grunge power grows with the new "Roll Me Under" and the way this song follows "Piece of Pie" so well is a most promising sign for Stone Temple Pilots' future. Gutt delivers a powerhouse vocal that has a vintage yet fresh vibe, a great addition to the catalog. The set finishes strong with a double shot from the first album in "Dead and Bloated" and "Sex Type Thing", followed by the scintillating psychedelia of "Tripping on a Hole in a Paper Heart".
"Creep" makes for a contemplative moment to open the encore, a song that perhaps haunted Weiland through the years but one which arguably takes on an even greater resonance in his absence. "Down" caps off the show with a furious finish, a satisfying closer with a fitting sentiment as Gutt sings "Pleased to meet you / Nice to know me / What's the message? / Will ya show me? / I've been waiting / A long time" while Dean DeLeo throws in some of the dynamic harmonic accents that have long been part of his influential alt-rock style.
Stone Temple Pilots has included only two new songs in the set, although the tour has only recently kicked off so it will be interesting to see how the repertoire grows. The demand for this music is certainly still there, so now the question is how far can they push their creativity and build the repertoire out with an audience that probably expects to hear all the hits. What's certain at the end of the show is that it's great to have Stone Temple Pilots back on the live music scene.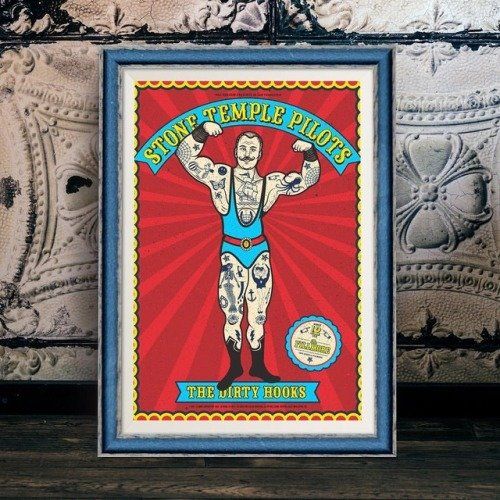 LE Print – Stone Temple Pilots @ The Fillmore – March 12, 2018

78.media.tumblr.com