What's the next step for a renowned band that spent 2017 celebrating the 30th anniversary of their seminal masterpiece album with a stadium tour where they played it (1987's The Joshua Tree) in its entirety every night? If you're U2, it's putting that album on the shelf and going back to arenas to focus more on newer material and musical reflections on modern times. Such a concept would be unthinkable for many bands, but U2 didn't become one of the biggest rock bands in the world by playing it safe.
On the road again behind 2017's vibrant Songs of Experience album, lead singer Bono and his mates still aren't shy about using rock 'n' roll music as an outlet to sing out against injustice just as they've been doing for decades. It's rather confounding then how some critical fans will take umbrage at the band's socio-political insights as if this hasn't been a hallmark of U2's career? Controversy arose a week before tonight's show at the Shark Tank (the home of the NHL's San Jose Sharks) when the band tweeted in favor of a referendum to repeal Ireland's 8th Amendment, which contains an unequivocal stance against abortion. "Pro-lifers" predictably expressed outrage, with some fans alleging they will no longer support U2.
But U2 has never been a band to let fear of a backlash from conservatives stand in the way of using their music as a platform to advocate for social justice. That also explains why they're not afraid to tour America with a multimedia performance that courageously compares President Trump and some of his more offensive supporters with Nazis, similar to how Pink Floyd's Roger Waters analogized Trump with the swine of Floyd's "Pigs" last year. That has led some disgruntled fans to suggest that it's fine for U2 to speak out about political issues in their native Ireland, but not okay to speak out about what's happening in the USA. This is an absurd viewpoint given that the actions of the most powerful nation in the world can and do affect the rest of the world. Fans of socially conscious art must, therefore, tip their caps to U2 for stepping up their activism during these tumultuous times.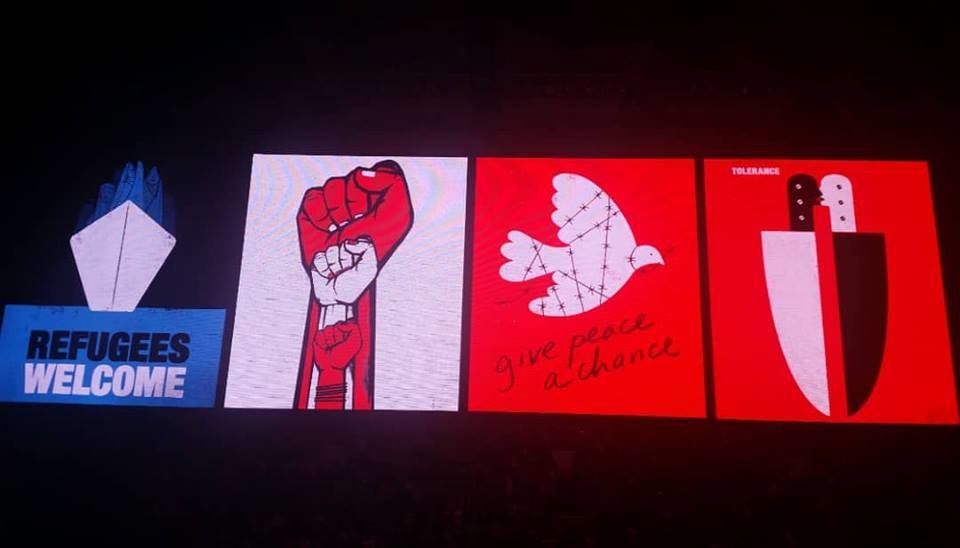 U2 advocates to give peace a chance / Photo by Greg M. Schwartz
U2 aren't mere rabble rousers however. As master musical craftsmen, the band works their message into the show with skillful artistic context. The quartet sets a fresh tone as they open with three new songs to get the show going. "Love Is All We Have Left" features the band camouflaged on an arena-length walkway for an ambient and theatrical intro of sorts, before before moving into rockers with "The Blackout" and "Lights of Home", both of which feature strong grooves from bassist Adam Clayton and drummer Larry Mullen and some existential searching from Bono. "Free yourself to be yourself, if only you could see yourself", the charismatic vocalist implores the audience.

The Edge / Photo by: SAP Center Photographer
Then come some hits in "Beautiful Day" and "I Will Follow", with the Edge winning hearts and minds on the latter with his trademark shimmering rhythm guitar work that has been so often imitated but rarely duplicated. "Red Flag Day" is another compelling new song apparently played for the first time here at the Shark Tank, featuring an urgent upbeat sound and memorable lyrics like, "Today we can't afford to be afraid of what we fear." There's some more of this vibe in "Cedarwood Road" from 2014's Songs of Innocence, with the Edge providing a hard-edged riff over a heavy beat. Some casual observers seem to have gotten the idea that U2 has become an overblown pop band, perhaps because these people are only familiar with hits they've heard overplayed on radio and TV. The ubiquitous installation of Songs of Innocence on more than 500 million iTunes accounts in a deal with Apple in 2014 surely didn't help this perception, even leading to an apology from Bono. But the more new material they play here, the more it becomes clear that U2 is not content to coast on their past success.
A big peak occurs with the classic "Sunday Bloody Sunday", one of the great anti-war anthems of all time. The giant video screens that stretch across the arena display compelling animation depicting the song's conflict as Bono sings the historical lament about the Bogside Massacre of unarmed Irish protesters by British soldiers in 1972. It's here that the show starts to take on a bit of a Pink Floyd vibe, both in musical power and with the multimedia anti-war visuals that can't be denied. The song also recalls some of Bob Dylan's great anti-war songs of the '60s such as "Masters of War", growing in resonance through the decades with universal lyrics that feel like they could be torn from current events, particularly the final verse: "And it's true we are immune, When fact is fiction and TV reality, And today the millions cry, We eat and drink while tomorrow they die."

Bono / Photo by: SAP Center Photographer
The band employs some more great visuals during "Raised by Wolves" to make it look like Bono is taking a nighttime stroll through a neighborhood of hard knocks, creating a strong cinematic effect. The first half of the show concludes with another rousing peak as the quartet delivers an electrifying rendition of "Until the End of the World", featuring quintessential guitar work from the Edge that gets the entire arena rocking again. A short animated sequence gives the band a chance to take a quick breather during a mini-intermission, but it's a great creative moment as "Hold Me, Thrill Me, Kiss Me Kill Me" is used as a soundtrack for a cartoon titled "Innocence & Experience: The Hero's Journey".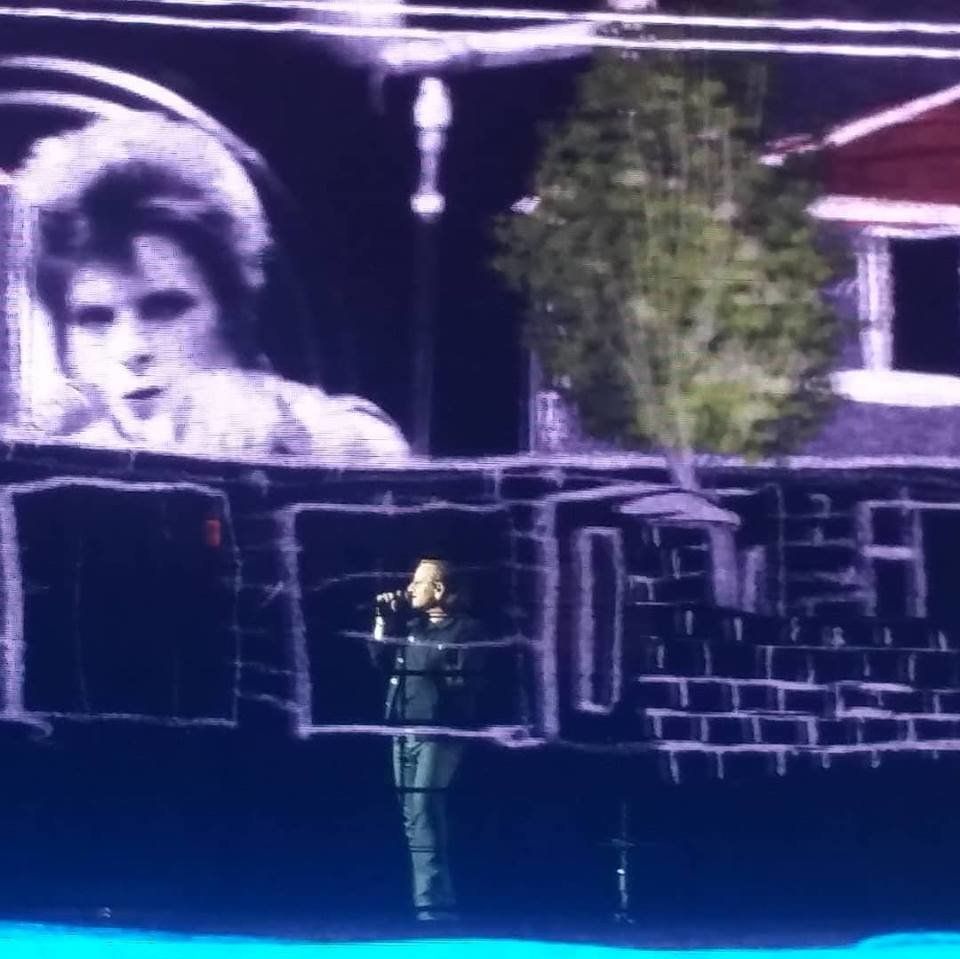 Bono on "Raised by Wolves" / Photo by Greg M. Schwartz
The comic book style animation depicts the band members in their early years, adrift at sea on a raft until they're rescued by a helicopter that appears to be piloted by a devilish stranger who offers them "god-like powers". "You don't have to sell your soul, you already have everything you need", the stranger says mysteriously before telling them, "Treat your gifts with respect" and "Strive to acquire wisdom" before sending the band off on an adventure.
It's a great message about how the power of rock 'n' roll can indeed contain a higher spiritual dimension and responsibility for those who take it seriously, which U2 have shown they do time and again over the years. The second half of the show launches with energetic workouts on "Elevation", "Vertigo" and "Desire" to ignite a joyous jam session. The sonic journey grows deeper when the band pairs when of their hit ballads with one of their biggest anthems to make a bold statement about the current political climate of 2018.

The Edge, Bono, and Larry Mullen / Photo by: SAP Center Photographer
1997's "Staring at the Sun" finds Bono expressing a soul-searching feeling as he sings lyrics including, "Will we ever live in peace? 'Cause those that can't, do often have to, And those that can't do often have to preach, To the ones staring at the sun" as the video screens display some disturbing images of Donald Trump and some of his white nationalist supporters wearing Nazi symbols. This serves as a prelude to a triumphant segue into the band's classic anthem "Pride (In the Name of Love)", with the imagery now depicting Martin Luther King Jr., and other symbols of peace.
A wave of energy surges across the Shark Tank as the four band members each appear on a different side of the arena, rocking out to unite everyone present with a message of peace and harmony. The Edge's majestic chord progression ripples with a timeless quality that recalls the vibe of Pink Floyd's "Run Like Hell", a fitting similarity both sonically and thematically what with U2 and Roger Waters leading the big tours in the past year that have dared to speak out against Trump's corrupt regime of greed and avarice. Earth to Trump supporters — when Rock and Roll Hall of Fame artists are calling out your leader for being an enemy of humanity, it's not a good look. For those critics who would suggest that foreigners have no place speaking out against American policy, rock 'n' roll rises up again as the universal medium for supporting global peace and harmony in an era where the powers that be have society on a path toward an apocalyptic climate change crisis.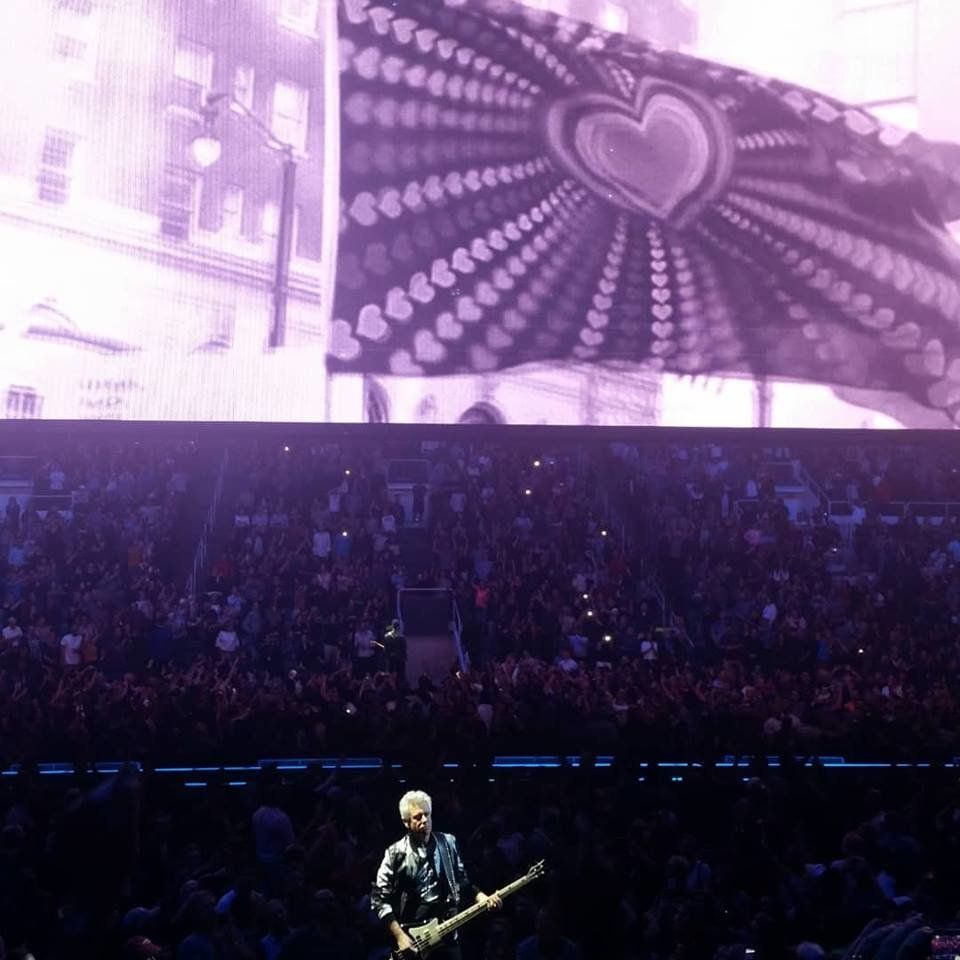 Adam Clayton digs into "Pride (In the Name of Love)" / Photo by Greg M. Schwartz
U2 continues in the same thematic direction by following "Pride" with "Get Out of Your Own Way", one of the strongest tracks from Songs of Experience. Bono delivers some of his most inspiring lyrics here in a song that touches on encouragement for both personal and collective transcendence with lines like, "Love has got to fight for its existence, The enemy has armies of assistance" and "I could sing it to you all night, all night, If I could, I'd make it alright, alright, Nothing's stopping you except what's inside, I can help you, but it's your fight, your fight." This sentiment taps into the same message of empowerment that has been a hallmark of U2's career, such as the classic moment during their cover of Bob Dylan's "All Along the Watchtower" on 1988's Rattle and Hum live album where Bono tells the audience, "All I've got is a red guitar, three chords, and the truth… the rest is up to you…"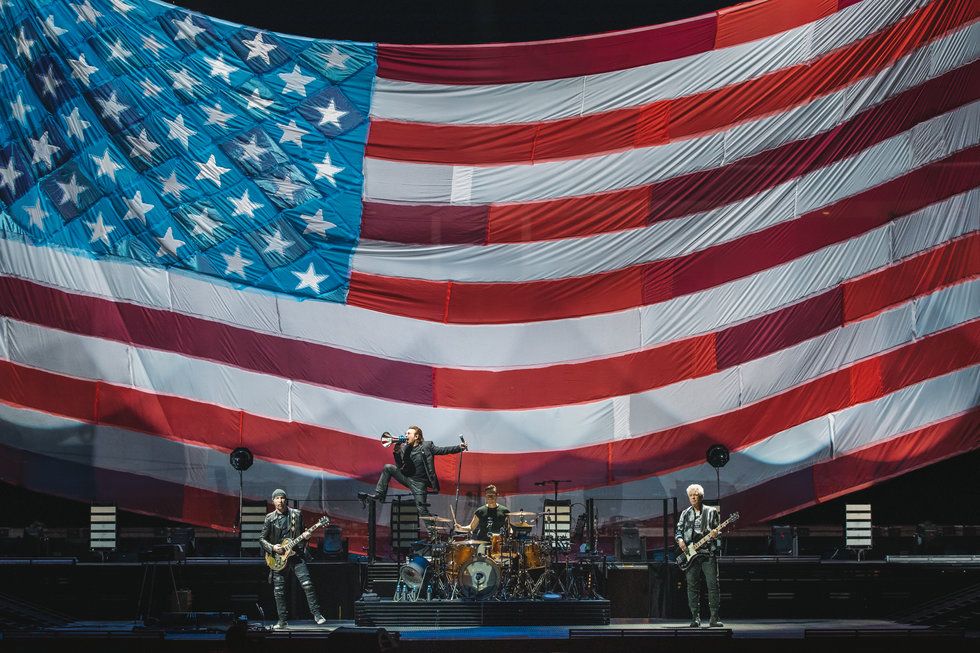 U2- "American Soul" / Photo by Danny North
Thirty years later, that message still rings true and the rock world is better for the fact that stalwart artists like U2 haven't given up the fight at a time when music as a force for change is needed more than ever. The band carries the theme further still by following with the hard rocking "American Soul", the same song that follows "Get Out of Your Own Way" on the album. A giant American flag appears behind the band as Bono throws down the gauntlet, singing "You and I are rock and roll, Came here looking for American soul, It's not a place, This is a dream the whole world owns." The song brilliantly dismisses the critics who would suggest that only Americans are entitled to speak out about American issues, alluding to how the American ideal of a melting pot country where anyone from anywhere in the world can come to follow their dreams belongs to all.